Welcome CRA Members
This Member site will be updated to keep you informed with Member news, info and updates to your CRA Membership.
To make the most of your Membership, visit the resort links on the main menu to find information for each CRA Resort such as resort activities, resort and local area upcoming events, local weather forecast and much more. On the right hand side you will find a form to sign up for our e-newsletter, social media links and more. To make a campsite reservation to the resort of your choice, click on the Campsite Reservation link on the main menu. Make sure you visit the Member Referral page, as it will be updated periodically with information for our member referral program. Keep up to date with our member newsletter on our Newsletter page, where you will be able to download them in PDF format.
We are delighted you and your family have joined our Colorado River Adventures camping family, and look forward to sending you on many unforgettable adventures, where you will make memories that will last a lifetime!
Enjoy your Membership!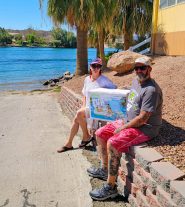 Congratulations to Joan Montano she is our 2021 13′ Party Platform Contest Winner! Joan won this by liking and sharing our contest on social media. Stay tuned for more contests throughout the summer!